A non-intrusive metal test system can benefit a manufacturing company. Identifying and confirming materials prior to a timely machining process can be very important. Recycling scrap materials is another cost-effective method of reducing manufacturing costs, and exact identification of recyclable metal alloys can be critical in obtaining the best rates for the recycled materials.
The MetalTest System combines the metal test measurement capabilities of an instrument built by Acromag, Inc. with a PC computer interface for material analysis and data storage. The operator can test metals with the aid of the semi-automated software program and determine, to a very high degree of accuracy, what particular metal is being tested. The Acromag metal tester unit is a thermoelectric instrument using a temperature produced voltage measurement system to determine the metal characteristics; the computer program assists the operator by calibrating the system, making the correct measurements, storing the test data and identifying the metal alloy.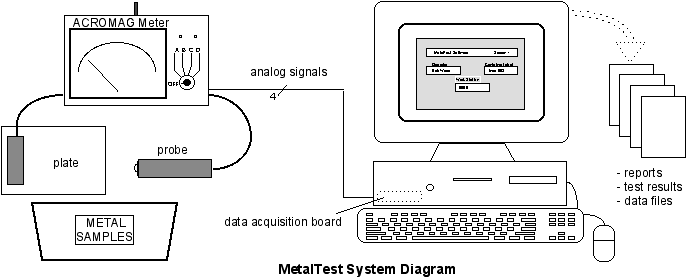 The system software sequences through several test and control screens to enable the technician to readily identify materials easily against stored material characteristics in a semi-automatic routine and the test results are stored automatically in data files or reports. The system can be used to characterize new materials and the program would be capable of adding this material data field to existing files.
The Acromag metal testing meter has been used to identify a wide variety of metals such as 300 and 400 stainless steels, Monel, cobalt based steels, nickel alloys, titanium, carbon steels and many other metals. The meter can also identify how metals have been treated such as annealing, rolling, or drawing.
The MetalTest System has been field-tested and is currently used by the Aircraft Engine Departments of General Electric Co.; it has reduced their overall manufacturing costs with a viable recovery process of scrap materials.
If you are interested in one of these systems, have any questions you would like us to answer, or are interested in a customized version of the current system, please contact us.