Software Products
Fellow wireless designers, technicians, and managers,
Thank you for your interest in our RF and microwave software products. We are proud to announce 8 software products that will save you time and money by improving your efficiency in today's wireless world. Let our software interpret data, display results, and do the hard work for you while you spend your time on more important things.
We work hard to make our software user friendly and cost effective. Unlike more expensive, high end software, you shouldn't have to worry about whether our software is worth the money. It WILL save your company money the first time you use it and every time thereafter. Because the user interfaces are intuitive, the training time is minimal. We invite you to download and try the trial versions of these programs. Call us to register your program to unlock all program features.
As always, we appreciate your feedback. We continually strive to improve our software packages based on your suggestions. We are also available to contract custom modifications to these programs to suit your individual needs. We would like to thank you for choosing our product and for your continued support.
Sincerely,
Bob Wood
Latest Software News
RF Path Analysis Toolkit

Go to the RF Path Analysis Toolkit Information Page
The RF Path Analysis Toolkit is one of our newest software tools. This program will allow RF designers to use Excel spreadsheets to analyze RF paths (Cascade Analysis). Some of the key features are:
Uses Excel "template" spreadsheets to perform RF signal path analysis (1 template included).

Analyze noise figure, gains, signal levels, third order intercept points, and other parameters for any RF paths.
The Path Builder interface provides a real-time display of the RF path performance as you build up the RF path.
Customize the template spreadsheet to add your own calculations.

Uses Excel "library" spreadsheet for organizing a database of RF components.

A preliminary RF component library is included with hundreds of parts.
New parts may be added within the program, and existing parts may be modified.

Build up the RF signal path by cascading RF components together from the RF component library.
The program is built with a LabVIEW user interface that controls Excel as needed.
The RF path parameters and components in each RF path can be saved to and loaded from text files.
This program offers the flexibility of developing custom template spreadsheets and libraries while eliminating the common problems associated with modifying Excel spreadsheets. This program works best for designers who would like to build up an RF component library, and analyze several RF paths using a common database of library parts.
SpurFinder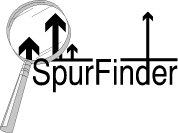 Go to the SpurFinder Information Page
SpurFinder enables designers to evaluate various frequency conversion schemes before implementing them. The user simply enters an input frequency range, an output frequency range, and a fixed LO frequency. The program then displays a mixer spur chart that shows the output frequencies for all mixer spurious products up to the 20th order of M*RF and N*LO. The latest version includes a new "Slider Bar," which lets the user slide a cursor across the input frequency range. A table displays the output mixer spurious products and their frequencies in real time. Use this program to choose the conversion scheme (RF, LO and IF frequencies) with the best spurious performance. The program also provides a look at the pre-selection and post selection filter rejection requirements for the conversion scheme.
Graphically displays the location of spurious products in a frequency conversion process.
Replaces the old "Mixer Spur" charts and nomographs
Works for up conversions and down conversions.
Evaluate your receiver or transmitter conversion scheme before implementation.
Optimize your conversion scheme for best spurious performance.
Analyze pre - selection and post - selection filter requirements based on spurious frequencies.
This program is a valuable and necessary tool for all receiver designers.
TunerHelper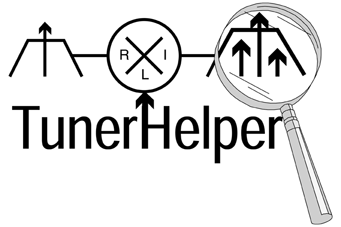 Go to the TunerHelper Information Page
TunerHelper aids in the design of a receiver or transmitter frequency conversion scheme by providing a user friendly interface for analysis. Specify the input pre-selection filter requirements, the mixer spurious requirements, the leakage requirements, and the output post - selection filter requirements to view the signals and spurious products in your design. The program allows the user to determine all output signal and spurious products for any input frequency and amplitude. All filter and mixer parameters may be saved to files for use in other conversion schemes.
Easy to use graphical interfaces display "spectrum analyzer" view of all signals and spurious products.
Used to design and specify filters and mixers in a frequency conversion process.
All parameters (eg. mixer spurious and isolations, filter rejections, etc.) are configurable.
Works for up conversions and down conversions.
Adjustable input pre-selection filters, mixers, and output post-selection filters.
All parameters and scenarios may be saved to and loaded from data files.
PathLossSolver

Go to the PathLossSolver Information Page
PathLossSolver calculates the one way RF path losses. This program provides a simple, easy to use interface to determine the Radio Frequency (RF) signal levels at a receiver at a given distance from an RF transmitter.
This program is very easy to use. Some of the highlights are:
Calculates RF signal level at a range of distances from the transmitter.
Antenna gains, transmitter losses and receiver losses can be incorporated into the calculations.
Simple, intuitive, and easy to use interface
Different units (km, miles, feet, etc) may be selected for distance and transmitter power.
A list of additional losses may be created and included in the calculations.
A graph and table of receiver power level vs. range is plotted.
Parameters may be loaded from and saved to text files.
The program has three parts: Transmitter Characteristics, Path Characteristics, and Receiver Characteristics (Figure 1). Parameters can be modified in each of these parts to determine the RF signal level at the receiver input.
Painless Extraction
Go to the Painless Extraction Information Page
Painless Extraction is a comprehensive program that automates the extraction of data from Network Analyzers to PCs. This program will save extracted data to an S2P file and read existing S2P files for statistical analysis. Script files may be created or imported to perform quality assurance pass/fail testing. Data analysis is performed on the selected S-parameters providing a wide array of statistical information. The current program works for Agilent (HP) 8720, 8753, 8757, and 8510 models, but other network analyzers can be added (contact us for additional models).
Retrieves S-parameters electronically from Network Analyzers (currently Agilent 8720, 8753, 8757, and 8510)
S-parameters can be stored in S2P data files.
S-parameters can be retrieved from S2P data files.
Flexible plotting routines
Data analysis of each S-parameter vs. frequency
Script files may be created, loaded, and saved to identify pass/fail points in the selected data.
A Test Results file may be saved to summarize the outcome of the pass/fail script file test.
A great way to view S2P Files!
A must for anyone using a Network Analyzer!
Painless Extraction Noise Figure
Go to the Painless Extraction Noise Figure Information Page
Painless Extraction Noise Figure allows for the extraction and analysis of noise figure and gain data from Noise Figure Meters. Data analysis is performed on both parameters to provide a wide array of statistical information. After data retrieval, the data may be saved to a file for future use. The program currently works with the HP 8970A and HP 8970B Noise Figure Meters (contact us for additional models).
Retrieves noise figure and gain data via GPIB from Noise Figure Meters (HP 8970A, HP 8970B are currently supported)
Input Start, Stop, and Step frequencies to extract data across a specific band
A noise source ENR input table allows for ENR data to be sent to the meter.
View customizable noise figure vs frequency and gain vs frequency plots.
Analyze detailed statistical parameters.
Script files may be created, loaded, and saved to identify pass/fail points in the selected data.
A Test Results file may be saved to summarize the outcome of the pass/fail script file test.
Remove the hassle out of noise figure measurements!
Painless Extraction Scriptor
Painless Extraction Scriptor combines the data extraction and analysis capabilities of Painless Extraction & Painless Extraction Noise Figure with a new Custom Dialog Utility and an External Program Caller in an easy to use interface to automate testing through scripting.
Create custom script files to automate testing.

Call Painless Extraction and Painless Extraction Noise Figure in one convenient and easy to use interface.
Utilize the Custom Dialog Creation Utility to make custom prompts that alert the tester.
Generate notifications whenever tested parts fail the specified criteria.

View automated testing results in a clear and concise manner.

A Summary of Results table displays the pass/fail results for all parts tested.
Include comments in the summary file to clarify the report.
RFSpecTest - RF Spectral Test Executive
RFSpecTest is a software suite that was developed using National Instrument's LabVIEW. It may be used to automate the testing of Supported RF and Microwave components as well as sub assemblies. RFSpecTest allows data to be automatically extracted in a fraction of the time that it would take to do so manually. The tester can set up the desired frequency points and input the power level. RFSpecTest includes a calibration routine that provides data accuracy to 0.1 dB. The eight included test routines work across a variety of frequency conversions. This allows data to be extract from mixers and conversion chipsets.
RFSpecTest software is a great way to maximize your productivity and proficiency in RF Component Testing.
Test RF Components quickly with any of the eight included RF Tests
Works for Up Conversions, Down Conversions, and Same Input/Output Frequencies
Easy to use graphical interfaces with network analyzer style sweep across band
Save Data electronically to retrieve at a later time
Highly accurate Calibration Routine
Test almost any RF/microwave component imaginable
Save 8-12 man-months of software development with our off-the-shelf test software!