Painless Extraction Scriptor combines the data extraction and analysis capabilities of Painless Extraction & Painless Extraction Noise Figure with a new Custom Dialog Utility and an External Program Caller in an easy to use interface to automate testing through scripting.
Create custom script files to automate testing.

Call Painless Extraction and Painless Extraction Noise Figure in one convenient and easy to use interface.
Utilize the Custom Dialog Creation Utility to make custom prompts that alert the tester.
Generate notifications whenever tested parts fail the specified criteria.

View automated testing results in a clear and concise manner.

A Summary of Results table displays the pass/fail results for all parts tested.
Include comments in the summary file to clarify the report.
Program Operation
The following diagram illustrate the data flow and operation of Painless Extraction Scriptor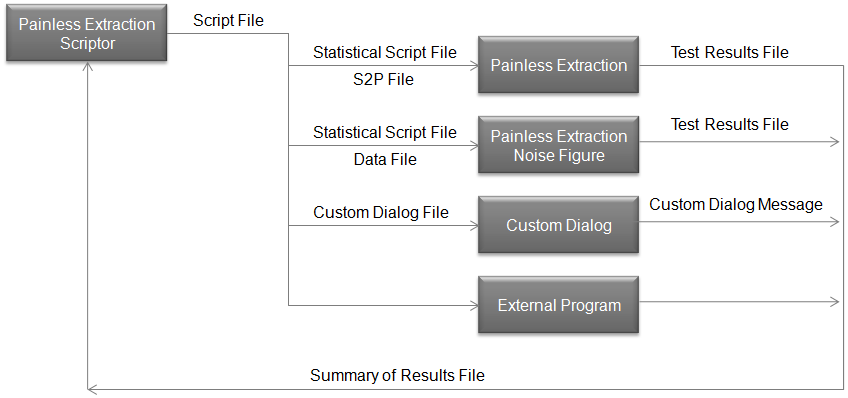 Screenshots
Pricing and Trial Information
Download Painless Extraction Scriptor now for a free trial version. The trial version has all features of the full version with the following limitations:
The capability to save and load script files is disabled
The full version is available for purchase for $79.00 (US Dollars). Buy now to unlock all program features.
System Requirements
Windows 98, 2000, XP, Vista, 7