Painless Extraction
Painless Extraction is a comprehensive program that automates the extraction of data from a Network Analyzer to your computer . This program will save extracted data to an S2P file and read existing S2P files for statistical analysis. Script files may be created or imported to perform quality assurance pass/fail testing.
Key features:
Retrieves S-parameters electronically from Network Analyzers.

We currently support Agilent 8720, 8753, 8757c, 8757d, 8757e and 8510.
Contact us for information on adding support for additional analyzers.

Data analysis of each S-parameter vs. Frequency

Includes a graphical panel with plots, statistics, and a pass/fail report (all on the same page).
Print multiple plots with limits using a self contained macro to quickly generate test reports for each part.
Perform data analysis on the selected S-parameters using the following statistical calculations:

Average
Minimum
Maximum
P-P Flatness
RMS
Standard Deviation
Slope of Best Fit Line (BFL)
Minimum Deviation from BFL
Maximum Deviation from BFL
P-P Variation from BFL

Store and retrieve S-parameters from S2P data files.
Create, load, and save Script files to identify pass/fail points in the selected data.
Save a Test Results file to summarize the outcome of the pass/fail script file test.

Interact with Painless Extraction Scriptor.

Utilize the capabilities of Painless Extraction in a scripting environment to automate the testing of multiple parts.
Include custom dialog prompts throughout the automated script to call attention to the tester.
For more information, see Painless Extraction Scriptor

A great way to view S2P Files!

Flexible plotting routines.
A must for anyone using a Network Analyzer!
Program Operation
Large graphs and numeric tables make it easy to view and analyze data extracted from Network Analyzers. The following diagrams illustrate the data flow and operation of Painless Extraction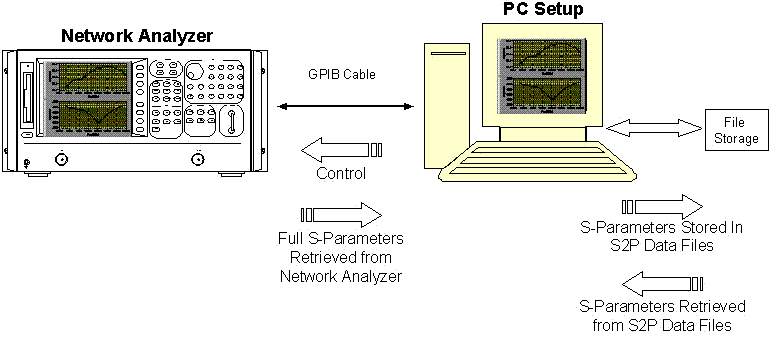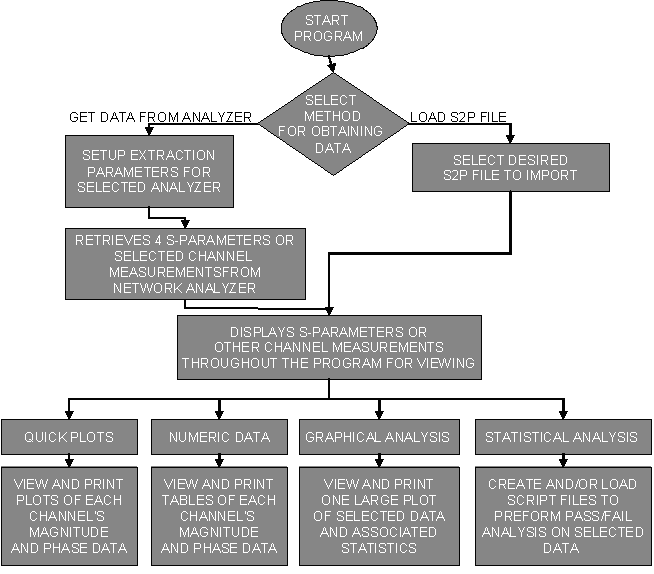 Screenshots and Examples
Pricing and Trial Information
Download Painless Extraction now for a free trial version. The trial version has all features of the full version with the following limitations:
The capability to save data to files is disabled
The analysis frequency range is limited to 2750 - 2950 MHz
The full version is available for purchase for $349.00 (US Dollars). Buy now to unlock all program features.
System Requirements
GPIB/HPIB Card

Network Analyzer and Computer require GPIB interfaces
Please Note: Software has been tested with National Instruments Cards only.

Windows 98, 2000, XP, Vista, 7