Sunday, January 01, 1995
Typical Automated Test Setup (Microwave Test)
Typical Automated Test Setup (Microwave Test)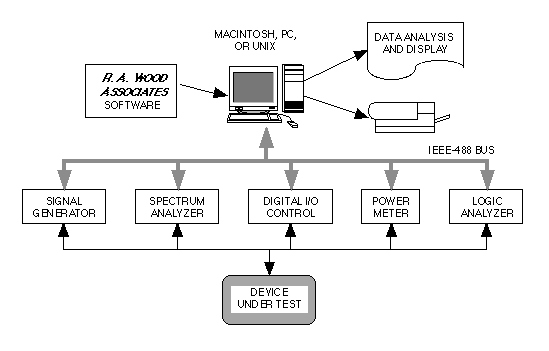 This diagram shows a typical computer automated test setup. In this application, a microwave device is tested using microwave test equipment such as the signal generator, spectrum analyzer, and power meter. The digital I/O controller provides the logic controls for the Device Under Test while the logic analyzer reads digital information from the device.
The computer acts as the automated test controller. It controls the microwave test equipment to provide stimulus and measurements to and from the Device Under Test. Digital control is passed from the computer through the digital I/O board. Digital output data is passed from the logic analyzer to the computer.
The R. A. Wood Associates software will control the testing and analyze the measurements. Typical measurements may include gain, noise figure, gain compression, spurious signals, filter rejection and amplitude accuracy. The measured data is then summarized, eliminating the need for manual data reduction. Output data can be stored in data files for further analysis and evaluation.