Friday, March 21, 2008
Software Manuals Updated and Uploaded
We have updated and uploaded all our software manuals. Many thanks to Amelia, who has been working very hard to create and update all our manuals, and keep them current with our latest software revisions.
Manuals for:
SpurFinder
TunerHelper
RF Path Analysis Toolkit
RFSpecTest
Painless Extraction
Painless Extraction NF
PathLossSolver
can be downloaded from our Software Products page. Thanks! Bob Wood
Thursday, March 20, 2008
New SpurFinder Version 3.5 Released!
Hi Everybody!
We just released a new enhanced Version 3.5 of SpurFinder. The new version provides the capability to create/load multi-scenario "script" files. The script files can contain multiple SpurFinder scenarios that can be set up for the purpose of evaluating the best spurious conversion scheme. You can "pre" set up the various spur scenarios using Excel or a text file editor, and then save the file as tab-separated text. With a single click of a line in the table, all the scenario information is transferred to the SpurFinder front panel. This allows the user to quickly evaluate many conversion schemes (without having to type all the parameters in the front panel).
You can also modify the SpurFinder front panel information and save the information back to the multi-scenario script file.
It's simple, just load a Multi Scenario Script File, select a row:

The row information is entered in the SpurFinder Panel: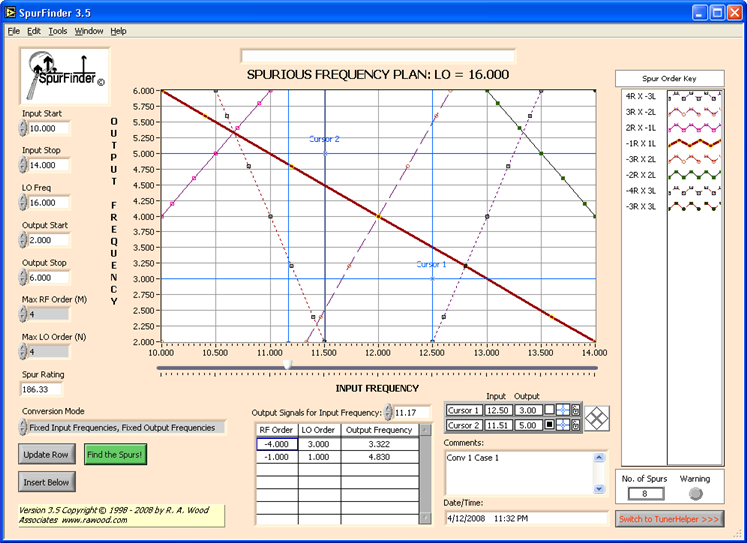 For more information, go to our software page. Download the program, try it out, and let us know what you think. Thanks! Bob Wood