Friday, March 26, 2010
Painless Extraction Scriptor 1.0 Released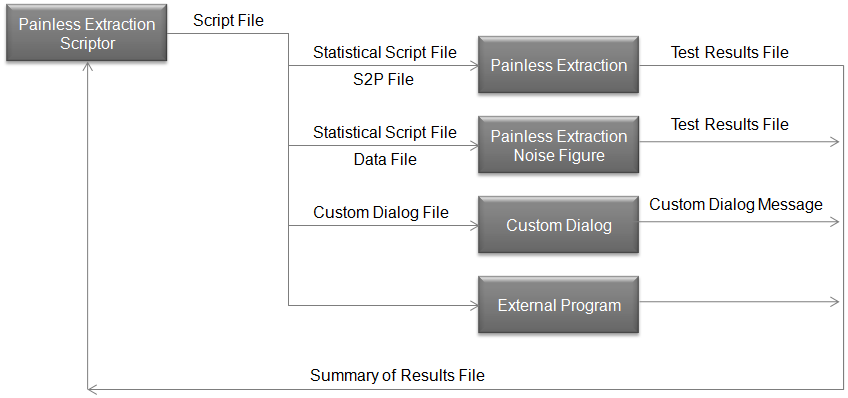 We have released a new Software Product, called Painless Extraction Sciptor (Version 1.0). This program combines the data extraction and analysis capabilities of Painless Extraction & Painless Extraction Noise Figure with a new Custom Dialog Utility and an External Program Caller in an easy to use interface to automate testing through scripting. This program enables the user to construct script files that will call Painless Extraction, Painless Extraction NF, Custom Dialog Boxes, and External Programs. Use these capabilities in combination to create customized automated testing procedures. For more information, please visit our software download page.
Now you can automate Network analyzer, Scalar Analyzer, and Noise Figure measurements, and automatically create test reports for production testing! The custom dialog boxes can be used to guide test personnel through the testing process. External programs can be used to control devices prior to collecting measurements from the test equipment. We'll be providing more documentation about this program through our various software and support wiki's.
Monday, March 22, 2010
New Update (2.2) for Painless Extraction Released
We've released a new version of Painless Extraction (2.2) today. This release includes many new features, including:
Compatibility with HP 8575d Scalar Analyzers
Compatibility with new Agilent PNA Network Analyzers (will be released in Version 2.2.1 very shortly)
A new graphical interface panel with plots, statistics, and a pass/fail report, all on the same page
Capability to be called from Painless Extraction Scriptor, which will allow Painless Extraction to be called remotely from script files (stay tuned for the release of Painless Extraction Scriptor coming soon)
A self contained macro capability, where multiple plots can be printed with limits. A great way to create a quick test report for each part tested.
Please feel free to visit our software information page for more information. As always, your feedback and suggestions are always welcome!